Red Hair Red Light: Kielty Gets Knee Surgery
2007-02-28 11:11
Score one for the red light Will Carroll gave Kielty's health risk over at Baseball Prospectus:
He crushes lefties when he's healthy, but his hand, shoulder, and oblique have made him more known for his costumes than his bat.
Add a knee to that list of body parts. Susan Slusser reports that Bobby Kielty needs some minor knee surgery, and will miss three-to-six weeks. I'm sure he's quite depressed about this…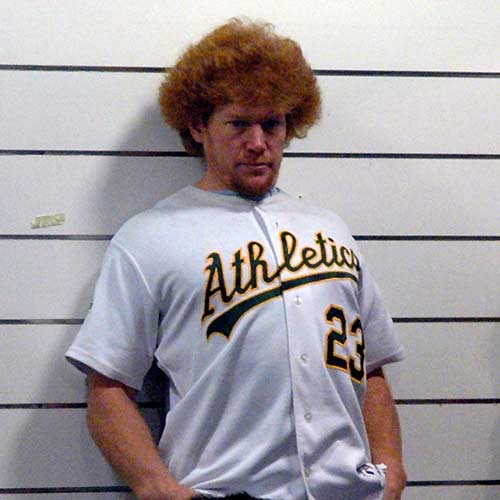 …but look on the bright side: this reduced the odds considerably that the Pittsburgh Pirates might want to trade for him.
* * *
The flip side to Kielty's red light is Milton Bradley's green light. I was quite curious how a five year veteran who has only managed to stay healthy enough for 400 ABs once in his career managed to get a no-comment green light from Carroll. I asked Will for a comment about this surprising (to me) result. He acknowledged that the system may have missed something but "I think the green's still accurate. The shoulder doesn't appear to be a long term concern, he overcame the knee problem with no real effect, and most of his past history is either non-recurring (oblique) or traumatic (appendectomy.)"
OK, then. I'm still not sure I understand how that makes him all that much of a better health risk than Kielty, but since Kielty is now injured, and Bradley (knock on wood) is not, we'll give Will the benefit of the proof in the pudding.