2007 Photo Outtakes: The Curse of Yorvit
2007-11-30 12:31
According to my calculations, after today's Mets trade of Lastings Milledge (I can finally say those words on this blog again!) to the Washington Nationals for Ryan Church and Brian Schneider, Yorvit Torrealba's career is now worth $377 million dollars. How do I figure? Watch, and learn, my friends:
After the 2003 season, the San Francisco Giants could have given Yorvit Torrealba their starting catcher job. Sure, he was not (and still isn't) anybody's idea of an all-star catcher, but he was cheap and capable of doing a decent job. Giants' General Manager Bryan Sabean obviously didn't see it that way. This has led to a series of disastrous decisions that will probably leave the Giants as the worst team in baseball in 2008.
First, Sabean traded Joe Nathan, Francisco Liriano and Boof Bonser for A.J. Pierzynski. Pierzynski was hated by all and left as a free agent after one year. The next year, the Giants again could have handed the job to Torrealba, but instead decided to give a three-year contract to Mike Matheny. Matheny's career ended with concussion problems, so the Giants subsequently signed Bengie Molina to a three year-contract.
Eventually, Torrealba was traded to Seattle for Randy Winn (who was given an expensive three-year contract), and guess what? The Mariners decided Torrealba was not good enough to catch for them, so they went out and signed Kenji Johjima to a three-year contract. Then they traded Torrealba to Colorado, who actually let him be their catcher, and what do you know–the Rockies won the pennant last year.
Back to the Giants: because they didn't have Nathan, the Giants lacked a closer, so they went out and signed Armando Benitez to, you guessed it, a three-year contract. Because they didn't have enough talented starting pitchers like Liriano and Bonser, the Giants went out and gave a three-year contract to Matt Morris (shown below–he signed with the Giants partly because his friend Matheny was here) and and a (gasp!) seven-year deal to Barry Zito.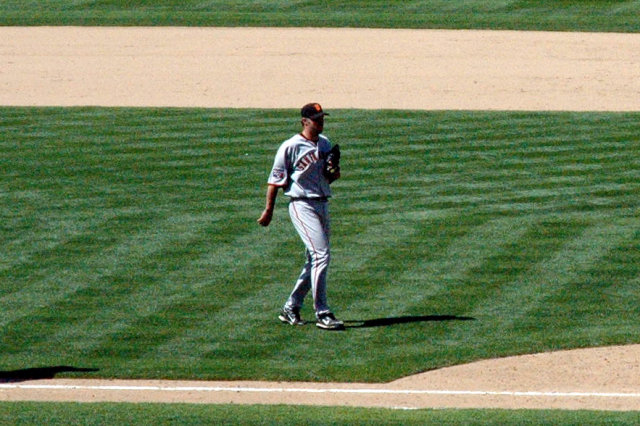 So let's add things up. Because the Giants did not trust Yorvit Torrealba to be their catcher back in 2004, they have committed to the following contracts:
Pierzynski: $3.5M
Matheny: $10.5M
Molina: $16M
Benitez: $21M
Winn: $23M
Morris: $27M
Zito: $126M
Total: $227M
…all while missing out on the value of these performances:
Nathan: $17M (actual contract)
Liriano: $80M (performance value using MORP)
Bonser: $25M (MORP)
Total: $122M
Meanwhile, the Mets almost signed Torrealba last week, but backed off at the last minute. A fatal mistake: the Mets panicked about their catching situation, and made a bad trade. Milledge has an expected MORP value of $64M through 2011, while the combination of Church and Schneider only adds us to $40M. So the Mets, for lack of faith in Torrealba, make a Giants-like decision and immediately lose $24M in performance value. And maybe that's just the beginning…knowing the fate that befall those who spurn Torrealba, perhaps this is only the beginning of a cascade of Mets' mistakes.
Add in the $16M the Mariners spent on Johjima instead of Torrealba, and you get: $227M + $122M + $16M + $24M = $389M. Subtract out $5M Torrealba has made thus far, and the $7M contract he just signed for the next two years with the Rockies, and we get…
$377 million dollars lost from the Curse of Yorvit!
Dan O'Dowd is a wise, wise man.