2007 Photo Outtakes: Torii Hunter Turns Angelic
2007-11-22 6:48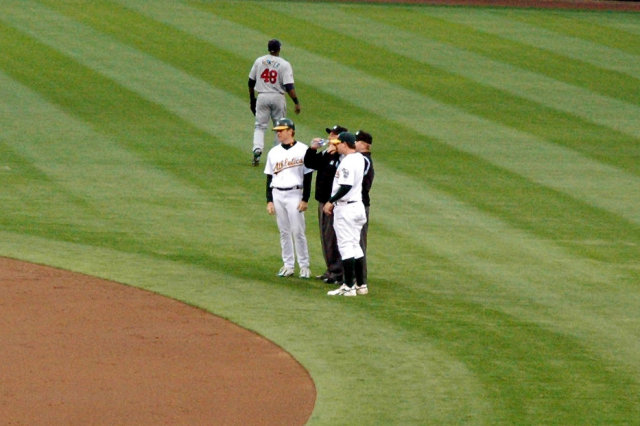 You better have a drink of water. We're going to be here awhile. For the second time this week, the new Angels GM, Tony Reagins, has made a move that (a) nobody rumored or predicted, and (b) cries out, "I'm just getting started here!" After signing Torii Hunter yesterday, the Angels are now awash in starting pitchers and outfielders. You have to figure that Reagins will use that excess to bring in a power-hitting left-side infielder, such as Miguel Cabrera or Miguel Tejada. Although, since Reagins seems to like surprising us, perhaps it will be another totally unexpected name, instead.
Whether the Garland-for-Orlando Cabrera trade improved the Angels is highly debatable, but it's pretty obvious that Hunter improves the Angels, at least in the short term. He makes them slightly better defensively, and slightly better offensively. Whether that slight improvement is worth $18M/year, and whether that improvement holds up for five years, is another question.
That's not a question A's fans need to worry about. For A's fans, the question is, does this move make it more likely the Angels will win the division in 2008, and thus make it a better decision for the A's to hold a fire sale and rebuild? I think the answer to that is yes, slightly. If we were 50-50 on that decision beforehand, perhaps we're 51-49 now.
But the moves to follow also affect the A's decision. If Reagins' next move actually makes the Angels worse instead of better, perhaps we flip back to 49-51. Or if Miguel Cabrera and Johan Santana get traded for prospects the A's have targeted for Haren and Blanton, that reduces the pool of talent that would make the fire sale worth it. There are a few more moves to come before all this gets sorted out. So have your drink of water, stuff yourselves with turkey, savor some delicious pie, and enjoy the show.