Throwing Downhill
2007-05-30 18:26
Chapter 1: How to recognize a very good pitcher from a very long ways away indeed

Dan Haren has been the best pitcher in baseball so far this year, but he didn't have his best stuff today. He's a pitcher who is always around the plate, pounding the strike zone, throwing strike after strike. But on this afternoon, his location was off, he was throwing more balls than usual, running long counts, throwing 24 pitches in the first inning, and reaching 75 pitches after four. Although the Rangers had only managed one run off Haren early in the game, and his opposing pitcher, John Koronka looked very very hittable, I began to worry that the A's might lose this game in the end. Haren looked like he would hit his pitch limit shortly after five innings, the A's would need three-to-four innings of work out of their quite shaky bullpen to win the game. But then, the field tilted.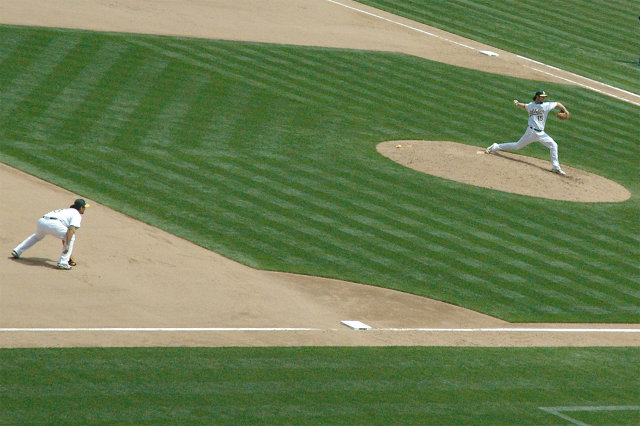 It happened in the fifth inning. What had been an uphill struggle for four innings, suddenly reached a peak and started racing effortlessly along like the cake of Gloucestershire cheese in today's scoreboard highlight of choice. A five-pitch inning was followed by a seven-pitch inning, and the next thing you knew, Haren had stretched his one last inning to three, and ended the day with eight innings pitched and only one run allowed.
And that's how to recognize a good pitcher. When he starts the game with an ERA below 2.00, has a bad day, and still manages to lower his ERA after the day is over: that's when you have a very very good pitcher indeed.