Beer Run: How to Defeat a Sabermetrician in an Argument
2008-02-04 12:37
I greatly enjoyed the recent smackdown between Rich Lederer of Baseball Analysts and Buster Olney of ESPN regarding the Hall of Fame merits of Jim Rice. If I had to score the fight, I'd say Rich won the argument in a blowout. But I say this not because I think Lederer is necessarily right, but because Olney played the game poorly. Olney was like a fast-break basketball team that let itself get caught in a half-court battle. Lederer was able to dictate the terms, and Olney fell right into his trap.
When one competitor prefers a particular style of play, you can beat them in one of two ways: (1) you can play their style of play better than they do, or (2) you can change the game you play. *
*Permit me a brief Posnanskian aside here, on the eve of Super Tuesday: the current Democratic primary is an interesting contrast of these two choices. Remember back in the 80s how the Republicans changed the meaning of the word "liberal" so that it became a bad thing? How Carter, Mondale and Dukakis got labeled as wimpy and economically incompetent "tax-and-spenders", and just got their butts kicked? And then along came Bill Clinton, who figured out how to play the Republicans' game better than the Republicans? Look, it's a Democrat who can manipulate the meaning of words better than a Republican! A Democrat who blames the Republican for being economically incompetent! A Democrat with a mean streak! It's like the Red Sox and the Yankees: neither one would ever admit it to themselves, but the reason they hate each other so much is that they're so damn similar. So here's Hillary Clinton now, playing that same old game, and like her husband, she's really good at it. But along comes Barack Obama, who says, we're tired of all this boring, low-post, half-court crap, we're tired of Red Sox vs. Yankees all the time, we're tired of the Bush vs. Clinton dynasties, there's more to this game than just the two dominant teams, we're playing a completely different game with a completely different point of view and we're going to take the ball and just run and run and run up and down the court. And of course, Bill Clinton goes out and spouts off and tries to drag Obama into the half-court game of parsing words and defending the low post, and Obama tries his best to avoid it, but he can't, completely, because if the other team is posting you up you still have to defend it. And so last week, after all this time trying to avoid the dynasty game, goes and makes a mid-season trade for a dynasty-type player (Ted Kennedy), to help him defend the low post. Anyway, this is all a big mixed metaphor that's about to jump the shark off the deep end, but like the recent Super Bowl, I find the game to be surprisingly fascinating, and probably should be until the end.
Anyway, back to Lederer vs. Olney. The trap that Olney fell into was to let Lederer dictate that the argument must be based on statistical evidence. So Olney tries to say that OPS+ is misleading, RBIs were important at the time, blah blah blah, and deliberately avoided using "fear" in his argument. To all that, I say, phooey. If you're not immersed and invested in statistical analysis, you're not going to win a statistical argument against someone who is. You're like that guy in that movie who pulls out a sword and proudly swishes it around, and Indiana Jones pulls out a gun and blows you away.
If you want to avoid falling into that trap, if you want to avoid becoming fodder for BTF and FJM mockery, you need to learn how to avoid the Sabermetrician's weapons, and where to hit him where he is weakest. Welcome to your first lesson in Defense Against Deductive Arts.
To begin your study, consider this: what is the most important element of the following photograph: Elijah Dukes' home run, or the beer?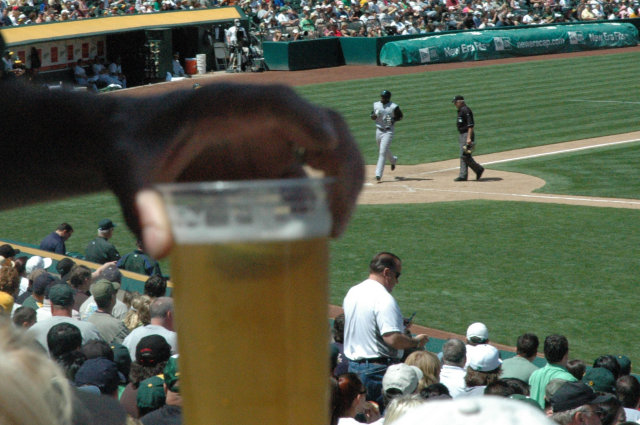 The first and most important lesson when fighting against a Sabermetrician is this: remember the beer. No, I'm not saying you should get your opponent drunk, although I suppose that wouldn't hurt your cause any. The point is this: sabermetricians almost always argue from the point of view of a General Manager. They focus entirely on how to win instead of why we watch.
If you remember the beer, you also remember that you're a fan, not a GM. Does your particular argument require a GM's perspective? If not, don't pretend that you are a GM. Embrace another perspective: the manager, the coach, the owner, the player, or the fan. The further away you get from the GM's POV, the more you disarm your Sabermetrician opponent. The opponent has plenty of weapons in a high-level, how-to-win argument, but is practically defenseless in a why-we-watch argument. Play the game you think you can win.
Take, for example, the argument regarding the Hall of Fame merits of Jim Rice. If you're a GM picking an all-time team, maybe the stats say you'd be stupid to pick Jim Rice for your team instead of Tim Raines. But who says you're a GM? Remember the beer. You're a fan, not a GM.
I've made this point before, but I'll make it again: awards are celebrations, not measurements. If Jim Rice struck fear into my heart when my team faced him, why is that emotion not a valid reason to celebrate him? We watch for a reason, and nobody I know of has ever been able to articulate that reason, but I'm very certain that the reason we watch is very closely related to our emotions. And if Jim Rice evoked strong emotions in us, and Tim Raines or Bert Blyleven didn't, then so be it. Statistics are a valid reason to celebrate a player, but so are emotions. Don't dismiss emotions, embrace them.* They are why we are here in the first place.
*Another Posnanskian aside: I have been here on this earth for 42 years today. And I think I have finally come to a general philosophy I believe in, which is somewhat related to this whole article. The best, most effective human systems (governments, businesses, schools, sports teams, etc.) combine an objective, rational measurement of success with a subjective, emotional measurement of success. For example, I believe that the reason that America is great and strong is we have a system that combines an objective, rational system (free markets measured by money), with a subjective, emotional system (democracy measured by votes). Over time, you get progress because every idea is constantly being tested by one, if not both, measurements. Most of the time, you trust the objective measurement, but the reason you don't trust it fully is that we need to correct for the fact that the objective measurement we choose (money) is really just a proxy for the real thing we want to measure (life, liberty, pursuit of happiness, whatever), and sometimes the proxy measurement doesn't correlate very well to the real goal, so we need to adjust. But subjective measurements are more likely to be flawed than objective, so you should treat the subjective measurements as an adjustment to objective results, not as equal to them. To ensure that the both the objective and the subjective can play their roles optimally, you should avoid mixing the two systems as much as possible (that is, don't let governments run businesses; don't let businesses buy votes). Ideally, you probably want a balance between objective and subjective of about 80-20 or 90-10, depending on the systems and the quality of the measurements.
Back to baseball again: using statistics to measure a player's qualifications for the Hall of Fame is just a proxy for the true thing we want to measure: how much we want to celebrate the career of this player. Most of the time, the stats are enough to decide for us, but sometimes we need to adjust. For example: Jim Rice is a player with borderline Hall of Fame stats who struck fear in the hearts of AL fans everywhere. We were there, we felt it. We want to celebrate Jim Rice by inducting him into the Hall of Fame. Mark McGwire is a player with borderline Hall of Fame stats who cheated by using chemical enhancements. We were there, we feel betrayed. We don't want to celebrate Mark McGwire.
Proxies are useful, but don't mistake a proxy for the true thing. A map is not the treasure in itself.
Defense Against Deductive Arts, Lesson #1, in conclusion: Count the run, but remember the beer.