A's Trade Scutaro to Toronto
2007-11-18 13:37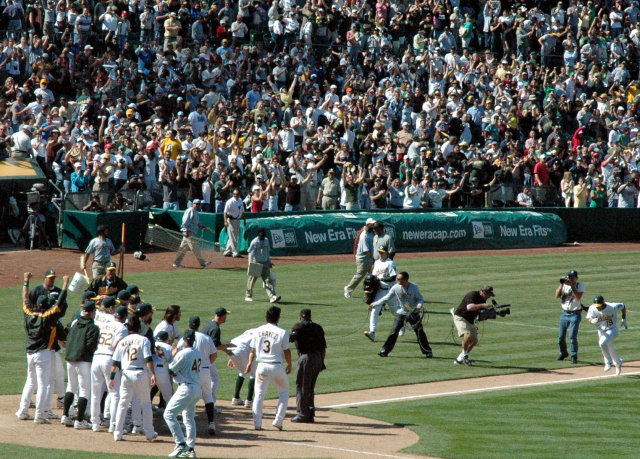 Without a doubt, the highlight of the 2007 season for the A's came on April 15, when Marco Scutaro hit a two-strike, two-out, walk-off home run in the bottom of the ninth off Mariano Rivera. Playing primarily as a backup utility infielder his whole career, he nonetheless has managed eight career walk-off hits. Those timely hits, combined with his six RBI in the 2006 ALDS, has given Scutaro a solid reputation as a clutch hitter.
Today, A's GM Billy Beane traded Scutaro to the Toronto Blue Jays for two minor-league pitchers. This alone probably shouldn't be taken as a signal that Beane has decided to blow the team up and rebuild. Scutaro (.693 OPS in 2007) is arbitration eligible, and Donnie Murphy (.731 OPS) emerged last season as a cheaper version of Scutaro, someone who can play multiple infield positions and provide some tolerable offense along with it.
In return, the A's receive two unheralded A-ball pitchers, Graham Godfrey and Kristian Bell. Both were low round draft picks who had some middling success this year. Neither one strikes out a lot of batters. Godfrey (3.98 ERA, 6.02 K/9) has a "a low nineties fastball, a slider and a change-up" according to Batter's Box. Bell, oddly, had matching mediocre earned run and strikeout rates this year, (5.33 ERA, 5.33 K/9). This is especially odd considering that Bell is apparently capable of throwing lightning bolts at will.