2007 Photo Outtakes: Buy Me Some Red Ropes and Cracker Jack
2007-11-14 22:00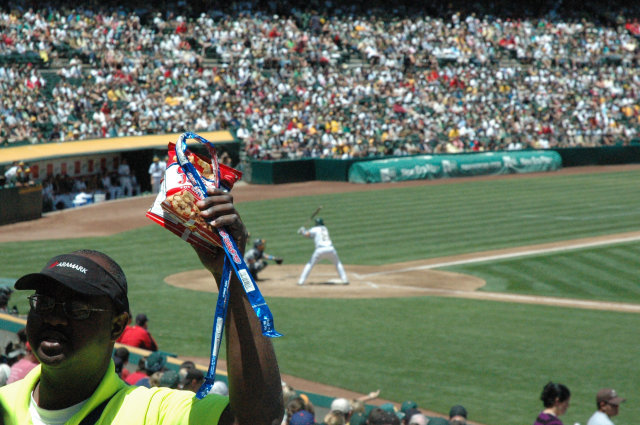 The song "Take Me Out To The Ballgame" is turning 100 years old next year. Can I tell you one of my biggest pet peeves? I hate the fact that nobody ever sings the words "root, root, root for the home team" anymore. Nowadays we root, root, root for the "Giants" or "Dodgers" or "Cardinals" or "Pirates" or "Angels" or "Cubbies". Or even more annoyingly, we root, root, root for a team name that doesn't even scan properly, like "Mariners" or "Indians" or "A's" .
This matters. When everybody in every city roots for the "home team", it tells us something. Your home team may be different from mine, but in the end, all across America, we're all doing the exact same thing. We all have our separate homes, but our homes are united in something bigger than ourselves.
When we change the words to explicitly spell out our own provincial preferences, this message gets lost. We prioritize our division over our unity. I'm sick enough of this type of crap in politics, where issues get polarized and people get mislabeled for the sake of party victory all the time, all without considering the effect it has on the country as a whole. The attitude is, if you're not a Republican/Democrat/Red Sox fan/Yankee fan like us, we can just assume you're stupid/evil/spoiled/whiny, so who cares about you, anyway?
It makes me sad. If this continues, in a decade or so, there will be a whole generation of fans who will have grown up never having heard the original words in the third-most-sung song in America.
If anyone in MLB is reading this: please, do the right thing. Don't change the words. Honor the composer's intentions. Honor the role baseball plays in bringing America together. Fix your 7th-inning-stretch scoreboards. Bring back the "home team".