2007 Photo Outtakes: Anthem
2007-11-12 22:50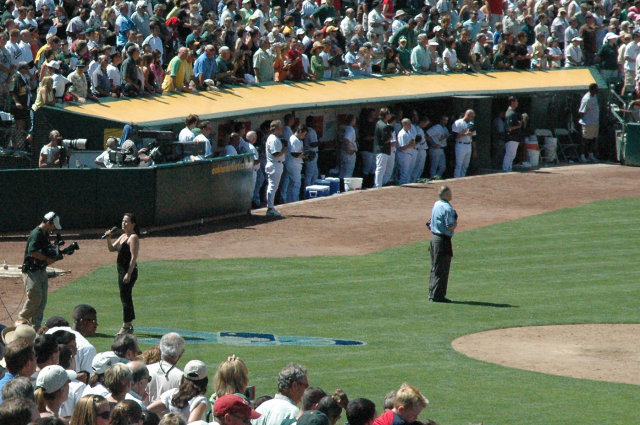 Scott Long emailed me today and challenged me to match his ARod/Neil Diamond post with something similar about Eric Chavez. Sorry Scott, but Chavez is simply not the kind of player who inspires anyone to burst into song. He's a good, if somewhat overpaid, player who lacks any sort of clutch magic in his bat that drives men to the muses. Did you know he hit his very first walk-off homer this year? He's no ARod or Big Papi or even Marco Scutaro in that regard.
However, I will note that on Friday afternoon, I was working quietly alone in my office when suddenly I heard someone belting out the National Anthem, seemingly right below my window. "How odd," I thought. I got up and looked out below, but could find neither Christian de Neuvillette nor Cyrano de Bergerac serenading me.
I didn't realize until later that the sound which through yonder window broke was to my West, and my Romeo was about half a mile away at Encinal High School, before the big game against cross-town rival Alameda High. (The hosts won, 25-8.)
I suppose it's a true test of patriotism, if not self-discipline, to find yourself all alone somewhere and the national anthem starts playing. Do you stand up to honor America?
I guess I passed that test, even if it was more out of curiosity than patriotism. On the other hand, I once found myself sitting on a toilet when a pretty large earthquake hit. For all I knew at the time, my life was in peril, but I remained utterly frozen on my seat. Perhaps I needed a device that would play the Star-Spangled Banner in my bathroom in the event of ground shaking, to ensure maximum motivation to get up.
(Hmm…is that last paragraph a good example of the kinds of creative output that Eric Chavez inspires? Go ahead and make a musical out of that story, Andrew Lloyd Webber!)
Fellow Alamedan Natasha Miller, the singer in the above photo, gave one of the better anthems I've heard. If we can't line up the obvious choices–Neil Diamond or Englebert Humperdink or Tony Orlando and Dawn–she would be a fine choice to provide the recording for this all-important life-saving device.