Outtakes 2007: Jeters and ARods
2007-11-08 3:52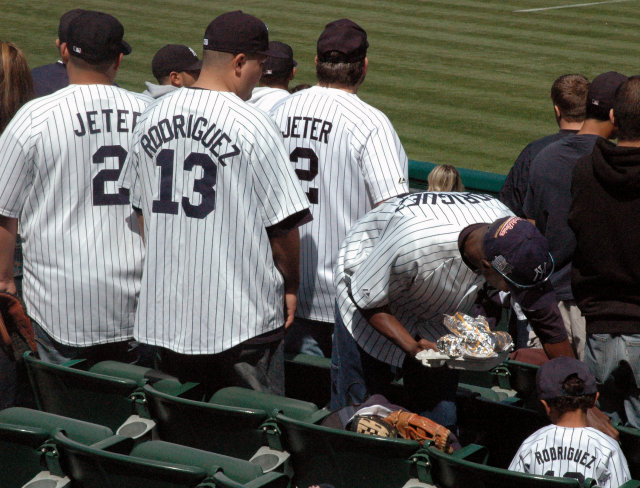 The GM meetings are going on right now. How is Billy Beane approaching this offseason? My thoughts about 2008 always boil down to this: the following five-man rotation, if healthy, is probably the best rotation in baseball:
Dan Haren
Rich Harden
Joe Blanton
Chad Gaudin
Justin Duchscherer
With a rotation like that, your rivals could have two Derek Jeters and three ARods, and you could still compete with them.
But if your rotation is mostly this:
Dan Haren
Joe Blanton
Chad Gaudin
Lenny DiNardo
Dan Meyer
You better hope your rivals don't have too many Jeters and ARods, because you're not going to win 95 games.
Right now, there's only one superstar slugger in the AL West, and that's Vladimir Guerrero. None of the four teams have particularly imposing lineups. Pitching and defense win this division. So maybe you take a chance and see how well Rotation A can hold up in 2008. If it holds up for at least half the season, you still might be able to win the division, even if you need to resort to Rotation B for the other half.
But suppose the Angels sign ARod and Barry Bonds? Now, you pretty much need Rotation A to hold up the whole year, don't you? And how likely is that? With Rotation B, the Angels can match you pitcher for pitcher, and their lineup blows yours out of the water. In which case, it's probably best to just blow up this team and rebuild, because the Angels will win the division in 2008.
Of course, Billy Beane understands this:
Oakland GM Billy Beane said he will decide in the next month whether to supplement the core of his team or break it up. Beane said he is monitoring the health and rehabilitation status of several key players, including Eric Chavez, Justin Duchscherer (whom Oakland intends to convert to a starter), Rich Harden and Mark Kotsay. "That's why we're at a fork in the road," Beane said. "We're either going forward and going for it or cutting it down and rebuilding. There is no middle ground in our market. When we hit the bottom, small market teams like us don't bounce." Beane said he would decide a course of action by the start of the winter meetings Dec. 3.