2007 Photo Outtakes: Five-Man Rotation
2008-01-20 6:26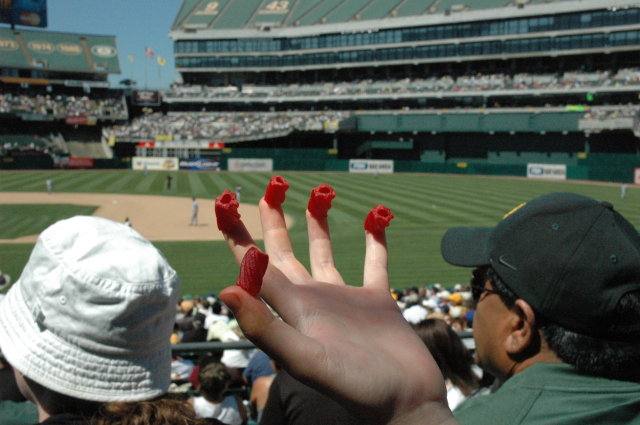 There are five slots in the A's rotation, not one of which is today filled with any certainty. Every potential A's starter is a question mark:
Joe Blanton: on the trading block.
Rich Harden: injured, or about to be.
Chad Gaudin: just had two surgeries.
Justin Duchscherer: coming off surgery, never been a full-time starter.
Dana Eveland: minor league star, but as of yet, no major league success.
Dan Meyer: improving, but still hasn't regained pre-injury top prospect form.
Dallas Braden: not sure if he can succeed without his screwball, not sure if he can stay healthy with it.
Lenny DiNardo: less talented, but more reliable than all of the above, he is the backup plan, if all else fails.
Kirk Saarloos: non-roster invitee is backup plan to the backup plan
This is the most unstable rotation the A's have had since 1997, the year Billy Beane took over as GM. That rotation had names like Steve Karsay, Ariel Prieto, Dave Telgheder, Mike Oquist, Brad Rigby, Don Wengert, Willie Adams, Mike Mohler and Jimmy Haynes all taking turns not pitching well. Obviously, the 2008 group is more talented than the 1997 group, but even the fact that those dismal days have returned to our thoughts is cause for distress. Bad memories! Bad! Bad! Stay away!