Pick Your Headline
2008-07-31 1:56
My wife and I disagreed about Wednesday's game–she thought it was a sloppy game, particularly defensively, while I found the defensive miscues forgiveable, and the game tense and full of interesting storylines, even if the final result was disappointing. I couldn't pick just one main theme to go with, so we'll run all the different headlines, and you can pick your favorites.
Carlos Gonzalez gets thrown out at the plate, and gets a fistful of Miguel Olivo when he tries to run him over. You can call it bad baserunning, or bad third-base coaching, but I think it was just a good play by the Royals, a well executed relay throw on a double by Jack Cust. If this run scores, the A's probably win this game in regulation. Instead the A's lost in extra innings, and got swept by the Royals. In recent years, such a sweep would be a total embarassment, but this Royals team isn't that bad anymore. The back half of their bullpen is quite solid and the starting pitching isn't at all embarassing as it once was. Find them a real shortstop and first baseman, and they're probably a .500 team. Meanwhile, the A's are moving backwards, falling below .500 for first time in many weeks. They've been freefalling ever since the Rich Harden trade.
Speaking of Rich Harden, I got my first look at Sean Gallagher in this game. My impression of him is that he's still immature as a pitcher. He kind of reminded me of when Dan Haren first arrived in Oakland…he'd have three or four or five quiet innings, and then he'd have one inning where all of a sudden he'd seem to be pitching uphill. Something would go wrong, and then he'd try to power his way out of a jam, and suddenly there's balls flying off and over the fences, and a small rally turns into crooked numbers. When Dan Haren learned how to give up one run in a bad inning instead of three, he became a star. Hopefully, Gallagher can make that leap someday.
I learned some more stuff about Gallagher, thanks to Cliff Clavin, who sat behind me at Wednesday's ball game, informing everyone in our section of a bunch of little-known facts:
Rich Harden was traded in a straight up one-for-one deal for some guy named Gallagher.
Gallagher's fastball is 10 mph slower than Harden's.
Billy Beane thinks he's a genius, but in reality, even Cliff Clavin is smarter than Billy Beane.
Beane traded away Jason Giambi, Miguel Tejada, Barry Zito, and Jermaine Dye.
In Moneyball, Beane said that he expected Jeremy Brown and Scott Hatteberg to be superstars.
Mark Teahen was traded to Kansas City in the Johnny Damon deal.
Wes Bankston was acquired in the Joe Blanton trade.
Greg "Moon Man" Minton is the brother of Billie Jean King.
Ain't life grand? You learn something new every day.
Banny Log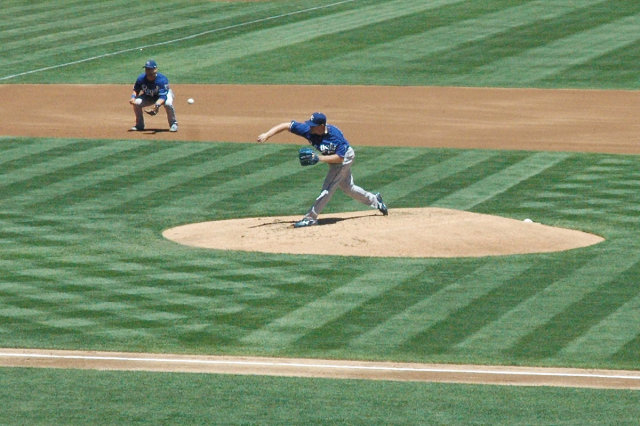 It was also my first look in person at Joe Posnanski favorite, Brian Bannister. Bannister is in many ways the anti-Gallagher. No, Bannister doesn't assemble broken watermelons. He's a pitcher who, unlike Sean Gallagher, has few physical gifts, but understands the mental side of pitching. I can understand why Bannister is fun to watch. He works the hitters, changing speeds and locations, and you can kinda see the mental gears turning in his head as he tries to set up the hitters. Some of the A's younger hitters, like Gonzalez and Bankston, were out-brained by Bannister a couple of times. But you could also see that he had trouble putting away the mature hitters like Jack Cust and Mark Ellis, who weren't easily tempted into biting on Bannister's nibbles. Bannister's pitch count got high very quickly, and he was out of there by the sixth inning.
Bannister was betrayed a couple of times by popups lost in the sun. This was part of the poor fielding that my wife thought made the game seem sloppy. But in the Royals' defense, the sun was absolutely brutal. The sky was so bright I ended up with a headache by the end of the game.
The wheels fell off for Gallagher in the sixth inning, giving way to Brad Ziegler down 3-2 with two runners on. Ziegler proceeded to get out of the jam with no further runs scored, and added two more innings after that to his major league record for most scoreless innings to start a career.
At first I thought this streak of Ziegler's was a cute little story, a form of beginners luck more than anything. But after Wednesday's performance, I'm getting sold on him. I'm beginning to mentally accept the idea that he really could be a star sidearming MLB reliever like Dan Quisenberry or Kent Tekulve. I'm not alone in this feeling: Ziegler got a standing ovation as he walked off the field, a rare event for a middle reliever.
If you want some numbers to support how amazingly good Ziegler has been, run over and read this article by Rany Jazayerli at Baseball Prospectus. Those double-play numbers are unbelievable.
Maybe It's Goodbye
It was the A's last game before the trading deadline, which means a certain sentimentality seeps into the proceedings. Any one of these players could be in another uniform tomorrow. You start wondering: Is this the last time I'll see Huston Street take the mound in green and gold?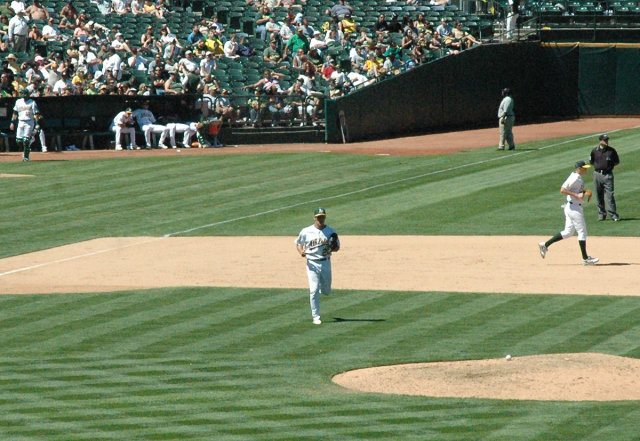 Mark Ellis tied Dick Green today for most games played as an Oakland A's second baseman. I think this record solidifies Ellis as the best A's 2B ever. But wouldn't it be a shame if after tying this record, it turned out to be the last game for the team? A's players come and go; longevity in an Oakland uniform is a rare thing, so a player who can reach a most-career-games record will be a particularly difficult loss to accept. Was this the last double play we see Mark Ellis turn?

I guess we'll find out by the end of the day. *Sigh.*