Why a no Chicken?
2011-09-07 11:36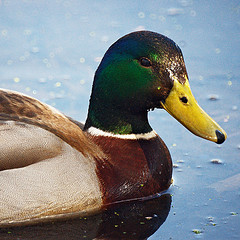 In a recent episode of Louie, Louis CK tells a joke that he admits he doesn't know how to finish. It involves a duck who thinks he's special because he has a green head.
This blog entry — heck, this blog — is like that. I'm not sure where I'm going with it, I don't know how it will end, I just have a feeling that I've got something here that can come together in the end.
* * *
I recently took one of those online narcissistic personality tests. I scored "normal". But the only reason I even got as high as normal was because I had an over-the-top score in the "superiority" subsection. I'm not vain or power-mad at all, but dammit, facts are facts. I'm special. I have a green head.
* * *
The Louie show fascinates me. If you put me in a focus group where I was holding one of those dials while watching it, I'd probably flatline at the bottom the whole episode. I squirm, I cringe, I feel uncomfortable the whole time I'm watching it, thinking "I hate this I hate this I hate this." Based on my real-time reactions, the network execs would probably cancel the show. But when you ask me afterwards how I feel about the episode, I usually love it.
Nobel Prize winning behaviorial economist Daniel Kahneman had demonstrated how humans have two distinct kinds of happiness. There's a happiness that one experiences in the moment, and there's a second kind of happiness that one feels in remembering things afterwards. The two kinds of happiness don't necessarily correlate with each other at all.
The standard sitcom focuses like a laser on the experiential kind of happiness. We've all watched these shows–30 minutes of set up, punchline, laugh–but the remembrance of it usually leaves us feeling empty. I think Louie's uniqueness stems from an indifference to the happiness of experience, if not an outright avoidance of it. The show cares more about afterwards, the happiness of memory.
* * *
Steve Jobs recently retired as CEO of Apple Computers. It's been a helluva career. In the one and only commencement speech he ever gave, Jobs said:
Again, you can't connect the dots looking forward; you can only connect them looking backwards. So you have to trust that the dots will somehow connect in your future. You have to trust in something — your gut, destiny, life, karma, whatever. This approach has never let me down, and it has made all the difference in my life.
From most accounts, Jobs could be a mean sonofabitch to work for. The experience at the time of creating all those great Apple products was probably miserable thanks to Jobs' harsh taskmastery, but after seeing the results, the memory of it afterwards was probably amazing.
* * *
But there's one nagging question I have about this philosophy: what if you only think you have a green head? What if your self-image is deceptive? What if you're really something other than what you think you are? Why a duck? Why a no chicken?
* * *
There's a scene in another episode of Louie where Louis CK has lunch with a Hollywood executive. She asks him for his sitcom ideas, and he starts explaining his idea for a show that avoids experiential pleasure. But he can't explain how it's special, how it pays off in the end. He's envisioning a green-headed duck, trusting that the dots will connect and there will be a green-headed duck in the end, but what he's describing sounds to the executive like a chicken with some sort of deadly disease.
It's safer and easier, not just for network executives but for human beings in general, to follow the immediate feedback, to trust the constant data streaming in from our current state of happiness, rather than ignore that short-term data and believe that something larger and more rewarding will emerge.
Postponing pleasure now for a bigger payoff later is very risky. If you're not special, if you can't make the dots connect, if there's no big payoff in the end, no pot of gold at the end of the rainbow, no heaven waiting for you after a virtuous life, if you don't really have a green head, then you've got nothing to show for it but misery. No happiness from experience, and no happiness from memory, either.
That's why shows like Louie don't get made very often. That's why companies like Apple are unique rather than ubiquitous. Because most of the time, none of it was worth it. You were just being an asshole for no good reason.
* * *
I've worked in the high tech industry from the infancy of the world wide web, and I've seen a lot of companies (including some of mine) start out with the Applest of intentions. But then the feedback starts coming in, from customer service and sales, and it's nearly impossible for anyone who isn't a complete narcissist to say "nope, our customers are wrong and our vision is right." Because usually the customers are right and your vision is wrong. So you follow the feedback. Be the bird that you are, and you usually have a pretty decent gig.
* * *
Modern electronic writing is primarily a pleasure-of-the-moment activity. Today's blog entry is forgotten tomorrow. Our tweets are out of mind as soon as they scroll off our feed. We're reacting in the moment to last night's game, this morning's article, tonight's political speech. Which is fine, that's what these media are meant to do. They're chickens. Chickens are great, as long as you're not expecting a duck.
* * *
Lately, I've had offers to write for a number baseball outlets out there. I've thought about trying a Craig Calcaterra, to see what I could accomplish I left my old, higher-paying career to commit to writing full time.
But so far, I've (mostly) resisted that temptation. My gut tells me, "don't make that commitment."
It's partly because I don't have all my ducks in a row in my personal life to make that practical right now. I quit writing regularly two years ago because I was juggling too many balls in my life, and I ended up doing a half-assed job on all of them. I hate feeling like I'm not living up to expectations, I hate feeling like I need to work 24/7 in order to avoid feeling like I'm not living up to expectations, so I resist making commitments that would create any expectations. Hence, for now, this blog, where I can do what I like, when I like, how I like with maximum flexibility and minimum commitment.
It's probably also because I'm narcissistic enough to believe I'm unique. I'm not ready to cooped up and commit to a life as a chicken. I'm not ready to accept that this is how I finish this story. I feel, rightly or wrongly, that I'm my own species, who simply has not yet encountered the right variety of poultry to fall in love with.