Fixing the Oakland Coliseum Fences (and Foul Territory)
2014-01-31 13:31
Grant Brisbee has a fun series over on SB Nation where he ranks MLB stadiums by how well they make home runs look impressive. Surprisingly, he ranks the Oakland Coliseum 13th. It gets that high ranking because the various levels of Mount Davis provide a good contrast between a mediocre home run, and a towering one. When someone crushes one at the Coliseum, you can tell it's crushed because it lands in the 2nd deck (down the line) or hits off the luxury boxes in center field.
That's fine and all. I suppose it's good that Mount Davis has some redeeming feature. But there are far more mediocre home runs than monster ones, and it's what the current version of the Coliseum does to those wimpy home runs that I hate.
Hate hate HATE.
Really, there is nothing I hate more about the Coliseum than the placement of the outfield walls. Nothing. Not the troughs, not the sewage, not the crap we A's fans have to take from other fans teams about the troughs and the sewage, not the 8th-inning Call Me Maybe, not even Mount Davis itself. I hate the placement of the outfield walls more than all of those things.
Except at the foul poles, there is no logic to the outfield walls at all. None. Look at the fence at any point between the foul poles. Why is the fence there? Why is it that height? No reason at all, really.
And worse than that, what really drives me bonkers about it is this: any EVERY point from pole to pole, if you hit the ball just barely over the fence, it DOES NOT LAND IN A SEAT.
Home runs should land in seats. Or if not IN seats, then OVER seats. Period.
* * *
Ok, Ken, you've been made Dictator of the Oakland Athletics for a day, and you can change one thing and one thing only. Give us your plan.
OK, I'm going to assume the A's will sign a rumored 5-10 year lease extension, and are therefore planning to stay at the Coliseum awhile. This may be putting lipstick on a pig, but nonetheless, let's make it a better place to watch a ballgame.
First of all, do you know why there is so much foul territory in Oakland? The story goes, as former A's broadcaster Monte Moore use to tell, that the third deck had obstructed views of home plate because of its slope, so they had to move home plate further out than they planned.
I don't know if that's true or not, but let's say that it is. Well, guess what? We're not using the 3rd deck anymore. It's (mostly) tarped off. So why is home plate still pushed out so far?
We're going to put home plate back and the foul poles back to where they originally were supposed to be. Then we're going to use the extra eight feet or so we gain to add some seats in front of the current bleacher seats. What we end up with is (a) an outfield configuration where, except for at the stairs, every home run lands in or over a seat, and (b) every seat in the main seating bowl is suddenly about two rows closer to the action, in a way that (c) shouldn't cost ridiculous amounts of money to implement.
Here's what it looks like with the new configuration in left field, and the old configuration in right field (click image for larger version):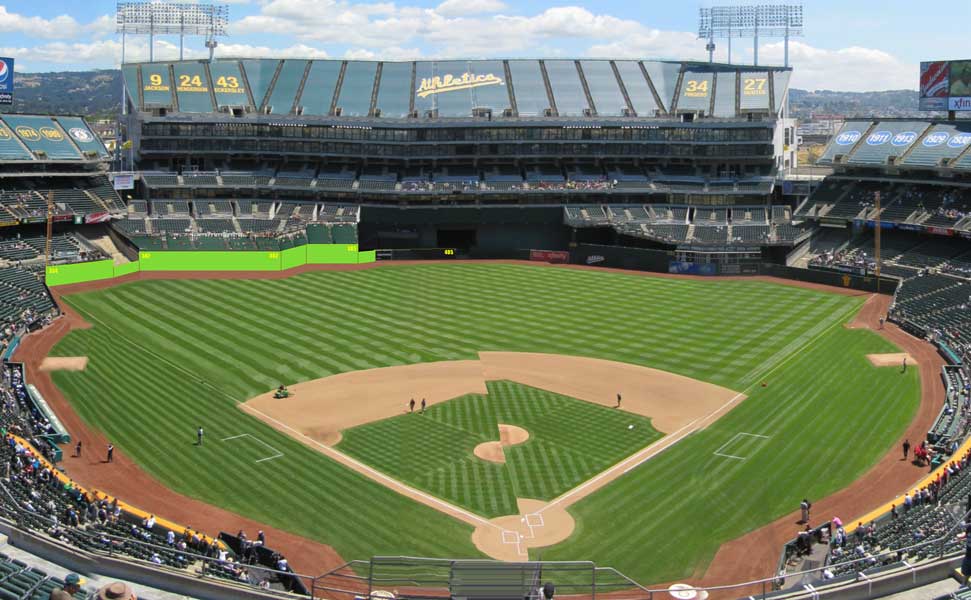 Let's look at this in more detail:
1. We're moving the foul poles over about 6-7 feet, so that there's only about 1 foot between the pole and the foul line seats. This pushes home plate back about eight feet or so, thusly: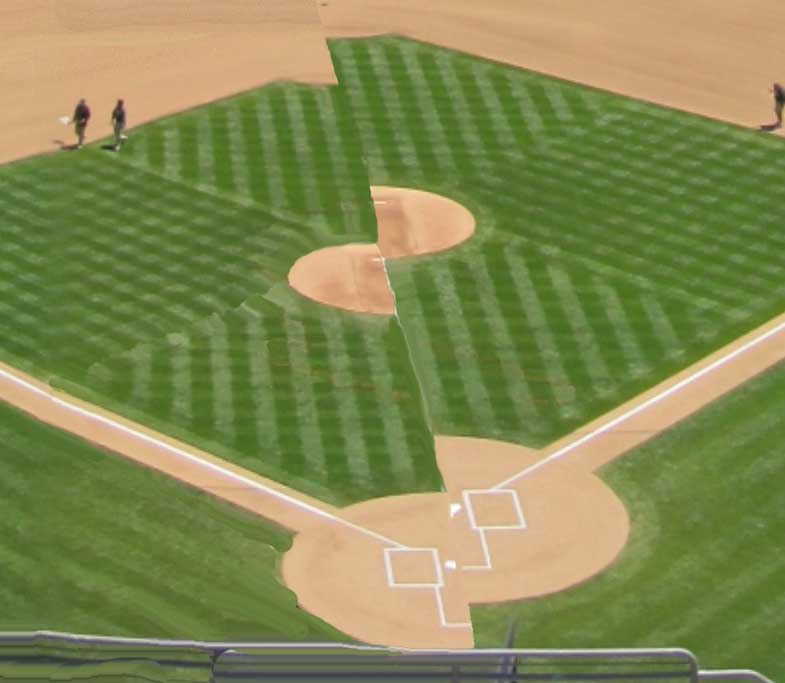 2. The wall nearest to the foul poles is about 2-3 feet shorter than the seats, and begins to angle away from those seats as you move more towards center field. We're fixing this. The walls go all the way up to the seats, and hug the seating section all the way. No more balls that land over this fence, but fall short of the seats. Compare the new and old corners: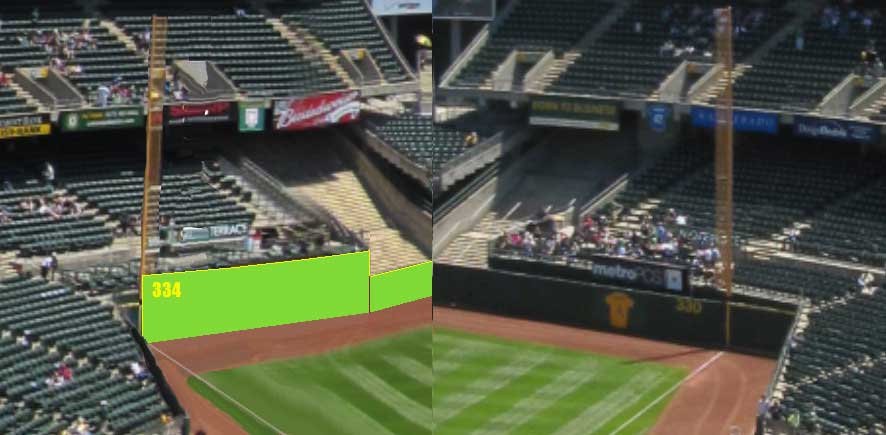 3. We'll get rid of that stupid idiotic ledge above the out-of-town scoreboard. With home plate being pushed about 8 feet back, we have room to add two or three extra rows of seats, and still keep roughly the same distance from home plate as before.
I don't know if we keep a scoreboard there or not. If you give free wifi throughout the stadium instead, you probably don't need it.
I cut and pasted Fenway's Green Monster seats here, to show you don't need to add seats identical to the other bleacher seats. There's room for some creativity in this new section.

4. Centerfield is now about 405 feet from home instead of 400, but we've cut down on the foul territory quite a bit, so this may keep the amount of offense roughly the same as before.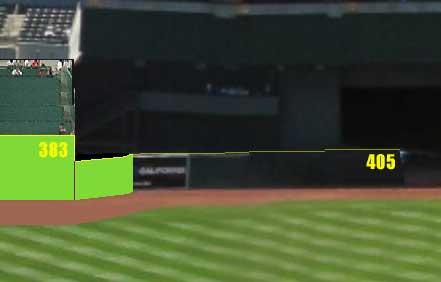 * * *
Ahhhhhhhh, now see? That's much better.
I'm sure you have all loved your Dictator for the Day, and Wish Long Life for your Beloved Comrade Who Brings Glory to the Homeland. Now please excuse me, I have some propaganda posters to go photoshop.