Committee on Trade, Customs, and Immigration Matters
2014-09-03 23:33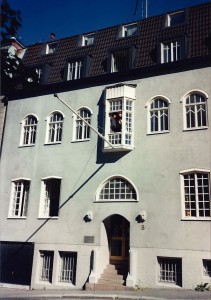 Random Wikipedia sends us today to the Committee on Trade, Customs, and Immigration Matters, which is a subdivision of the Pan-African Parliament. The Pan-African Parliament was established in 2004, and is similar in scope and goals to the European Parliament, aiming for central banking, unified currencies and free-trade zones. Obviously, to establish free-trade zones, you need rules and regulations regarding trade, customs and immigration between countries. Hence, this committee, probably tasked to create an African version of the Schengen Agreement.
Back in 1988-89 when I worked as a translator at the Nigerian Embassy in Stockholm (shown above, with me in the open window), I would not have envisioned that Africa would have come this far in 25 years. But they're about at the same place the European Union was back then. In 1989, it wasn't called the EU yet; it was the European Community. There were economic subgroups like the EEC and EFTA, but no common currency. The Berlin Wall had not yet fallen, and as a consequence, Sweden and Finland were not yet willing to join such an alliance. The pieces were there, but it had not yet all come together.
Of course, there are some unstable countries in Africa, especially in North Africa after the Arab Spring revolutions. But Europe in 1989 similarly unstable when the Berlin Wall fell. It would have been really interesting to still be working in the Embassy to experience the Nigerian reaction to the Berlin Wall falling, but I left that job in June of 1989, and the Berlin Wall fell in November. My successor as translator worked there in interesting times, to be sure.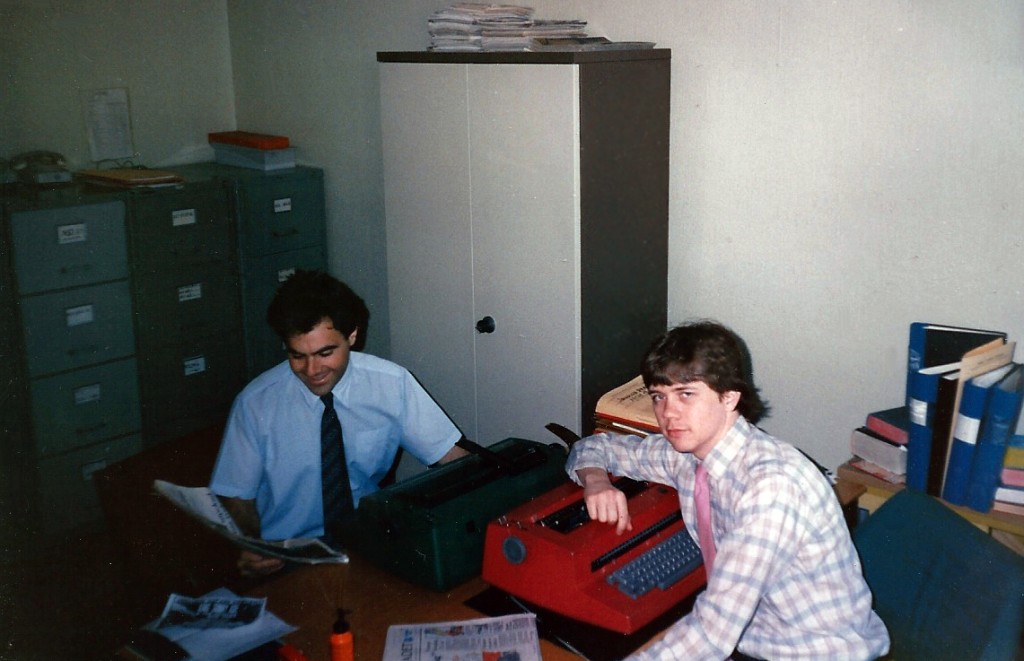 Wow, look at how serious those young professional translators looked back in 1989!
"Please! Spare me your egotistical musings on your pivotal role in history. Nothing you do here will cause the Federation to collapse or galaxies to explode. To be blunt, you're not that important."
–Q, to Jean-Luc Picard, in the Star Trek TNG episode, "Tapestry"
You know, sometimes I feel like I'm living the life of the version of Jean-Luc Picard who didn't get stabbed in the heart by a Nausicaan in that episode of Star Trek– the one who didn't become a famous captain, the one who lived life too cautiously, who didn't take risks, who drifted in life with no particular plan, and who as a result ended up with a decent, but forgettable and unremarkable career. But then I think, wow, I worked in European diplomacy as Communism was falling, and I worked in Silicon Valley as the Internet was starting, I got involved in blogging as social media became a thing, I covered the A's as Moneyball introduced the world to statistical analysis. I've witnessed a lot of history unfolding, even if I never was the one who captained any ships to glory. All those events probably would have rolled on more or less the same without my being there. We can't all be a Jean-Luc Picard (primary version). It is the nature of hierarchies that most of us, at best, are lucky just to be a Jean-Luc Picard (alternate version). I've been lucky.