One Man's Floor is Another's Ceiling
2020-08-08 23:30
When historians look back at the year 2020, they'll probably spend most of their time looking at the big events, the 4,000,000 people infected in America, and the 200,000 excess deaths, and the big effects on popular culture, like baseball being played in ballparks with 50,000 empty seats. They'll probably gloss over the little things that have changed about our lives, like the small cascade of COVID-19-triggered events that indirectly led to me falling through my ceiling yesterday.
Before COVID-19 happened, everybody in my house would head off in different directions each morning. The kids went off to school, and my wife would go to work, or her yoga class, or shopping. I, being kind of semi-retired at this point, would get a few hours to myself at home to fiddle around however I wanted.
When the pandemic hit, all those external activities became home activities. The kids started schooling over the internet, and my wife began doing her morning yoga class over Zoom. My youngest kid, who didn't have a computer before, took over my primary one. I downgraded to my somewhat underpowered laptop. Our wifi network, which I had taken for granted until this point, suddenly was reaching its load capacity with mulitple live video streams running at the same time.
Nothing I wanted to do took priority over anyone else's activity, so I just had to defer. I tried to stay out of their way when they were working. I tried not to do anything on the wifi network that would degrade their signal. But I began to miss my little alone time when I could do whatever the heck I wanted. So I hatched a plan to restore a little bit of what I was missing.
Our wifi router is in our attic, because that's where it can provide the best coverage for the whole house. So some weeks ago, I embarked on a project to clean out the attic, and carve out a little workspace for myself. That would solve two problems with one stone. First, it was a place I could be by myself and not interfere in anyone else's activity (and vice versa). Second, because the router was up there, I could plug my computer directly into the router over ethernet, and thereby not use any wifi bandwidth.
Our attic, like many attics, was primarily used as extra storage, a place to store junk you don't need very often. And as the years roll by, you forget you even had most of that stuff at all, and you never really needed it. So I started to go through all that junk, throwing a bunch of it out, and then organizing the rest, until I had cleared out enough stuff to build a little desk up there where I could fool around on my computer however I wanted once again.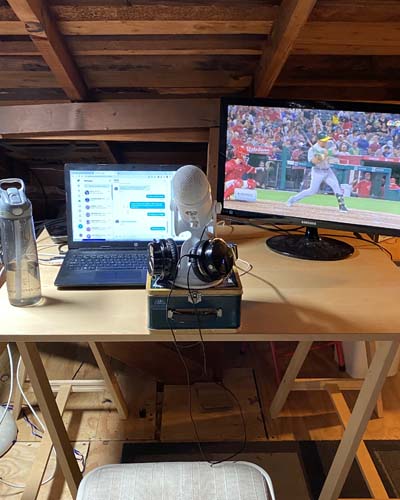 Today, my wife had organized a gathering of friends and family over Zoom, which is how family gatherings happen nowadays, if you're not a COVIDiot. It's a kind of game night, although it's only night for some of us, because we're all in different time zones. For us, it happened at 1pm, right about the same time as the A's first pitch. As a result, this was the first A's game of the 2020 season that I did not watch live.
Because we're zooming and playing online games separately on our own devices, the same wifi bandwidth limitations applied, so I went up into the attic to participate. The problem here was that the sun was shining through the attic window behind me, which made my zoom background too bright, so I decided to try to turn my desk 90 degrees to get the sun out of the image.
Now, remember this is an attic, so even though I had cleared a bunch of junk out of the way, there are still various posts and pipes and beams and other house infractructure tucked away up there. One of those pieces of infrastructure is a sun tunnel, which brings natural light from the roof into an otherwise fairly dark room.
So here's the incident: as I was turning my desk 90 degrees, I unwittingly stepped on the side of the sun tunnel tube. My leg then came down with its full weight onto the ceiling window contraption, which broke and fell out of the ceiling into the room below.
So one second, I was standing in the attic, and the next, I found myself on the floor of the attic with my leg dangling down from a hole in the ceiling of the room below me.
I wasn't badly hurt. I scraped my ankle and achilles heel, which bled a bit, but band-aids quickly solved that problem. My self-esteem was more hurt than anything. The whole incident had been broadcast live over zoom to my friends and family! How embarrassing.
On the bright side, now I have another home repair task I can livetweet on Twitter at some point.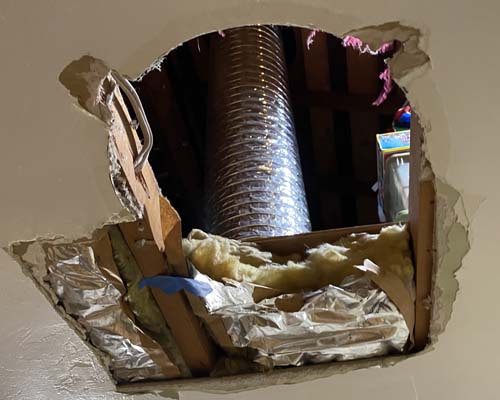 Anyway, after all that, I didn't watch the A's game live. I had considered streaming it on a second screen while we played games, but I just didn't have the mental energy to multitask like that after falling through the ceiling.
I ended up recording the A's game, and watching it later that evening. I don't think I've ever been more thankful for a quick, efficient ballgame. The A's won 3-1, but compared to some other low-scoring A's games this season, there wasn't a lot of action. Two of the three A's runs were scored on solo homers, requiring no time-consuming rallies to accomplish. Frankie Montas was brilliant, and mowed down the Astros quite quickly through seven innings. I was able to zap through the game, skipping commercials and such, in about two hours. That was just what the doctor ordered for my wounded pride.