So Proudly We Hailed
2020-09-20 23:30
The A's lost to the Giants on Sunday 14-2, losing an opportunity to clinch the AL West division title by their own hands. The Astros played twice between that game and the A's next game coming up on Tuesday, and lost the second of those two games, thereby clinching the crown for the A's via the back door.
So the clinching wasn't a particularly memorable event. More memorable, to me, was the fact that my daughter's middle school band played the National Anthem before that A's-Giants game on Sunday.
The plan before the pandemic was for their band to play the anthem live in person at the stadium before the originally scheduled game on April 14. Obviously that didn't happen, so that was disappointing, but the A's were gracious enough to give them the opportunity to play a recorded version before this game instead.
Since their school, the Academy of Alameda, is currently closed to in-person classes, they couldn't record the song together in person. And they couldn't record it live together over the internet either, because at this point in the history of technology, internet speeds are not consistently fast enough for everybody to hear each other at a rate where the lag would not be noticeable. A lag of a second or two on the part of any member of the band would make the song unlistenable. So every member of the band had to record their part separately, and then the band director had to piece all those separate recordings together into one video.
Here is a photo of some of the A's standing and listening to their recording before the game. My daughter is the one in the upper right corner on the scoreboard playing the flute.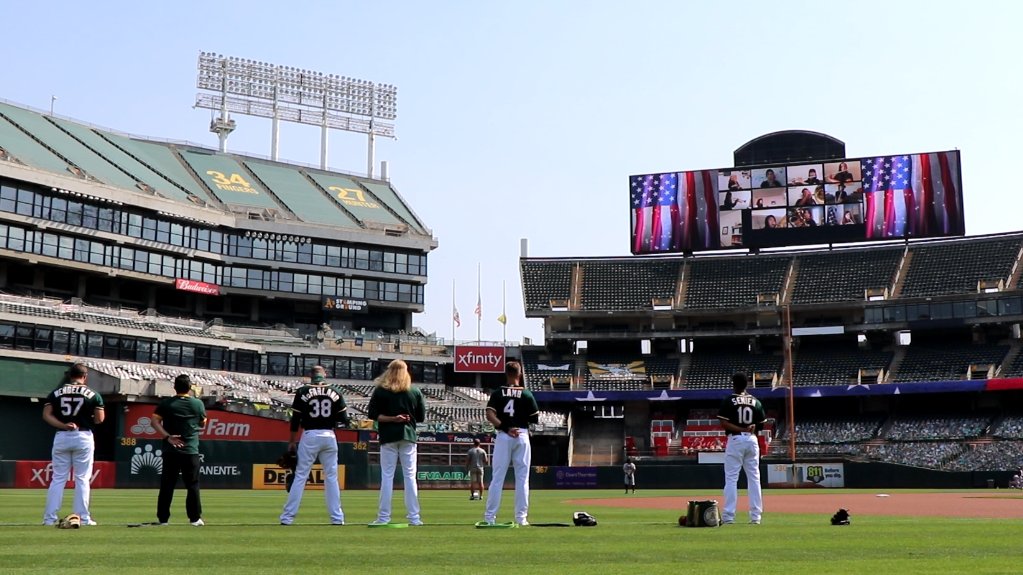 The A's were kind enough to arrange for a video to be taken of the song being played at the Coliseum. If you want to watch it, I posted the video on Twitter:
Here's the video of the Academy of Alameda middle school orchestra playing the national anthem before today's A's-Giants game. pic.twitter.com/2LpuJK6p0q

— Ken Arneson (@kenarneson) September 20, 2020