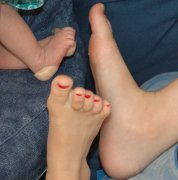 My baby daughter turns two months old today. For the first six weeks of her life, she didn't do much of anything; she was like a cute little simple robot that was programmed to just eat and sleep and fill her diapers. Lately, however, there have been signs of sentience. If I sit her on my lap, she will stare intensely down at her own bare feet, studying them as if they were the two most interesting things in the universe.
* * *
I woke up yesterday morning and found my seven-year-old daughter in a state of hunger. Of course, she didn't tell me this, I had to deduce it from her attempts to pick a fight with her older sister. When she's hungry, she gets cranky and loses all ability to reason. She feels like nothing can ever possibly make things right (save food, but she'll never admit that): she's unhappy, that's the way it is, and that's how it always will be, and everyone else around her might as well be unhappy along with her.
Come to think of it, that behavior is not too much different from the two-month-old, minus the foot fetish. Plus ça change, plus c'est la même chose:
Me: What do you want for breakfast?
7-year-old: I don't want breakfast.
Me: You need to eat. What do you want?
7-year-old: I don't want breakfast.
Me: OK, let's skip breakfast and go straight to lunch. What do you want for lunch?
7: I don't want lunch.
Me: Dinner?
7: I don't want dinner.
Me: How about dessert?
7: I don't want dessert.
Me: You must be sick, if you don't want dessert. Shall I call the doctor?
10-year-old daughter (sensing an opportunity): I want dessert for breakfast! Let's have chocolate-chip cookies!
Me: I was kidding. You can't have dessert for breakfast.
10: What about donuts? Can we have donuts?
Me: We don't have any donuts, and I'm not going out to buy any.
10: How about chocolate-chip pancakes?
Me (sighing defeatedly, heading towards the kitchen): Oh, all right. I'll make chocolate-chip pancakes for breakfast today…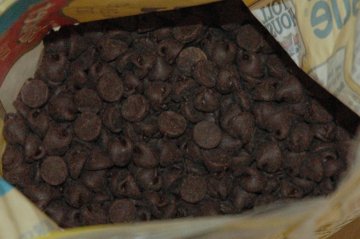 * * *
Reason is an elevator to Enlightenment. But Enlightenment is a just a small, lonely bus stop on a long journey to a chocolate-chip beach. Enlightenment is nobody's final destination. Dessert, on the other hand…
* * *
Josh Wilker, as a young man, took
a Greyhound bus to California
. He found a hole in a grocery store security system. He stole some cream cheese. But there's a hole in his story. Where did the bagels come from?
The bagels fell from the sky, into the ocean, and washed up on the shore. Barefoot people with tans combed the strand, gathering the bagels into baskets, and drove the baskets away in a vintage VW bus painted with all the landmark tourist attractions of the world.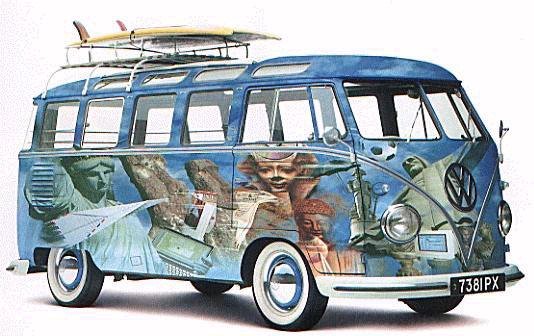 (You got your loaves, your cheeses, your walking on water, and then the topper–Wow! Look at the front of that bus! What a header! Who was that–Jesus or David Beckham?)